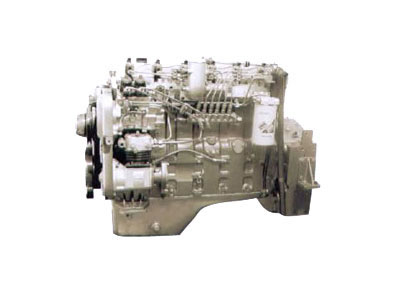 SC9DKE Electronically Controlled Diesel Engine
The Euro III electronically controlled diesel engine is a volume production of shanghai Diesel Engine Co., Ltd., which uses the mature D114 diesel engine as the manufacturing basis and combines renovations with mature technologies in Chinese, Japanese and American markets, and key components of which are all international famous brand products.
POWERFUL OUTPUT
The power coverage: 150~336 PS and the max. torque: 1350Nm
ASSURED SERVICE
Sufficient spare parts (interchange- Eable with Euro Ⅱproduct)and Professional Euro Ⅲ service.
GOOD ECONOMY
The specific fuel consumptionPer 100 km run is 5% ~ 10% down against the Euro Ⅱ prod-uct. The specification of the fuelused conforms to that available in China.
LOW EMISSION
Euro Ⅲ emission without black smoke.
LOW NOISE
The engine noise is lower than 98 dB(A), and complete busnoise is under 82 bB(A)
HIGH RELIABILITY
Mature product, mature market and mature technology create higher reliability.
MARKETING SEGMENT
Application to truck markets.
SPECIFICATIONS of SC9DKE Electronically Controlled Diesel Engine
Model
Unit
Euro Ⅲ
SC9DK280Q3
SC9DK300Q3
SC9DK336Q3
Type
DI, In-line,6-cylinder, Four stroke, Water cooled
Aspiration
Turbocharged Intercooled TCI
Bore×Stroke
mm×mm
114×144
Total Displacement
L
9
Compression Ratio
18:1
Rated Power/Rated Speed
kW/r/min
206/2200
221/2200
247/2200
BSFC@Rated Condition
g/kW.h
≦215
≦218
Min.BSCF@Full Load
g/kW.h
≦200
Minimum BSFC
g/kW.h
≦196
Maximum Torque/Speed
N.m/r/min
1160/1400
1250/1400
1340/1400
Noise
dB(A)
≦98
Overhaul Interval
km
≧400000
Cold Start
(Without Aid)
Smooth start within 15s at -15℃
(Without Aid)
Smooth start within 15s at -40℃

Acceleration
(No Load)700~2200r/min.t≦5s
Fuel System
Denso HPO CR System
Overall Dimension
mm
1363(Length)×890(Width) ×982(Height)
Weight
kg
720