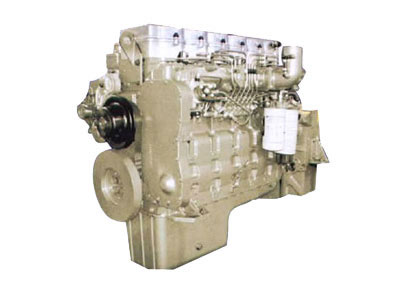 EuroⅣ 4-Value Truck-Use Diesel Engine
SC9DF diesel engine is a new-generation heavy duty engine developed aiming at compliance with Euro IV and future emission standards on the basis of D 114 engine successfully applied at home. In the development of the engine , the development trend of diesel engines in China and the world has been taken into consideration and technical resources of both domestic OEMs/parts suppliers and American , German , Japanese , British, Canadian top engine research organizations have been integrated . DC9DF engine has reached an advanced contemporary world level in terms of power performance, fuel consumption, vibration /noise and service reliability.
Powerful Output: 9L , golden displacement heavy-duty truck engine , with maximum power output up to 380 PS;
High Economy: Low specific fuel consumption within the operating zone , minimum 190 g/kW.h;
High Reliability: Combining with heavy-duty engine design experiences of many countries , B10 service life of the engine over 800,000 km;
Low Emission: With electronically controlled high-pressure common rail technology, compliant with Euro IVemission regulation, the Euro Ⅲ product first introduced into market in 2006;
Low Noise : Lower than 93 dB(A),meeting China Stage Ⅱ noise standard quite easily;
High Braking Power: Equipped with most widely used American Jacobs in-cylinder exhaust braking system, providing vehicles with super-strong braking force from the engine, thus greatly improving transport efficiency, lowering truck use cost.
SPCIFICATIONS of EuroⅣ 4-Value Truck-Use Diesel Engine


EuroIV
Model
Unit
SC9DF380Q4
Type
DI, In-line, 6-cylinder, Four stroke, Water cooled
Aspiration
TCI
Bore×Stroke
mm×mm
114×144
Total Displacement
L
9
Compression Ratio
18:1
Rate Power/Rated Speed
Kw/r/min
282/2200
BSFC@Rated Speed
g/kW.h
≤210
Min.BSFC@Fullload
g/kW.h
≤185
Minimum BSFC
g/kW.h
≤180
Maximum Torque/Speed
N.m/r/min
1600/1400
Noise
dB(A)
≤93
Overhaul Interval
km
≥800000
Cold Start
(without aid)smooth start within 15s at-15℃
(without aid )smooth start within 15s at-40℃
Acceleration
(No load )700~2200r/min.t≤5s
Fuel System
Denso HP4 CR System
Overall Dimension
mm
1235(length)×670(width)×955(height)
Weight
kg
780